The control circuit is inside the little black box. An old computer can be used.

The scope sitting on it's pier, conversion in place.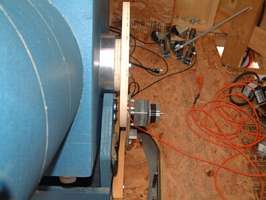 Edge view of the Altitude axis.
Each axis is clutched via a small lever at the bottom of each plate pair. Manual motion can be done in a few seconds.
The stepper motor drives a gearbox that turns a knurled knob onto the edge of each axis' drive wheel. A precision made 3/4" thick wood circle is required for even pressure. Each axis rides on metal bearings instead of teflon strips.
The specifications for this system are the same as with any other Evolution system listed here:
With the owners permission, the following is given:
The scope is owned and operated by Carl Moreschi in N.C.
You may contact him for specific questions. His e-mail address is n4py@arrl.net

















Conversion design by Lenord Stage
GoTo & Tracking Systems
5000 Green Hollow Dr.
Arlington Texas 76017-5910
(817) 468-0154